Crochet Sacred Animals - Shop
---
Wondering how I make these little characters? Well firstly it starts with crochet. All the parts needed, from arms to ears to nose etc. are all crochet seperatly. Next comes the stuffing of each of the main body pieces. Each small peace is then sewn on to the next small peace, until the full animal finally appears. Safety eyes are popped into the head before it is stuffed and the scales (in the case for Rose Dragon) are crochet over the whole of its body from head to tail. It then gets packaged and labelled - Phew, job done!
I can also make these animals to order!

The smaller ones take nearly a full day to make, whilst the larger ones take a day and a half.

Products In This Category:
I first learned to crochet at a very young age,taught by a blind elderly woman neighbour that used to live in the cul-de-sac where I was born. Under her ministrations I would busily chain away, linking said chains to form circles. Those circles would become the place mats that would adorn my mother's and my grandmother's dressing tables, sitting underneath the glasswear that sat there, as was the fashion of the day.
Not satisfied with circles I went on to do squares and turned those squares into cushion covers; I was hooked- literally- with crochet!
The idea of making the furry friends came to me as a way of making gifts for family and friends. They were always appreciated with a smile and taken into the heart.
One of my handmade animals has gone half way around the world. His name is Babar and you will find him on Facebook. He was made specifically made for his young mistress as a Sacred Mascot to keep her safe as she travelled and was so loved by her and her partner that he became their crochet son, and given the name above.
My next handmade mascot was specifically made for Angela James - children's author for fantasy and magic realism. Her book "The Golden Moonbeam" has Dingle Dragon on the front cover. As I make dragons Angela asked me if I could make one that looked like Dingle. When she received him in the post she was delighted by him - he now sits on her desk inspiring her as she writes.

This amazing Ice Sculpture (on the right) was made by mum Emma and daughters Gracie, and Lauren. Gracie is the one in the photo. It took them 3 hours to create this wonderful castle using a large tupperwear box. How fantastic is that!.... On the right hand turret of this castle is Gracie's new Rose Dragon.

With gratitude to Emma and her daughter Gracie for sharing this photo with me, it always warms my heart when I see what the crochet mascots that I make get up to.
I hope you too will find your Sacred Animal that calls to you!
SACRED ANIMAL GIFT IDEAS!
The birth of a new baby

Weddings

Anniversaires

Birthdays

Thinking of You!

Travelling Mascot
(See Accessories for more details)
Please Note:-For the birth of a new baby the animal will not be suitable for the infant until it is much older, but will make a nice present to sit out of reach in the child's room!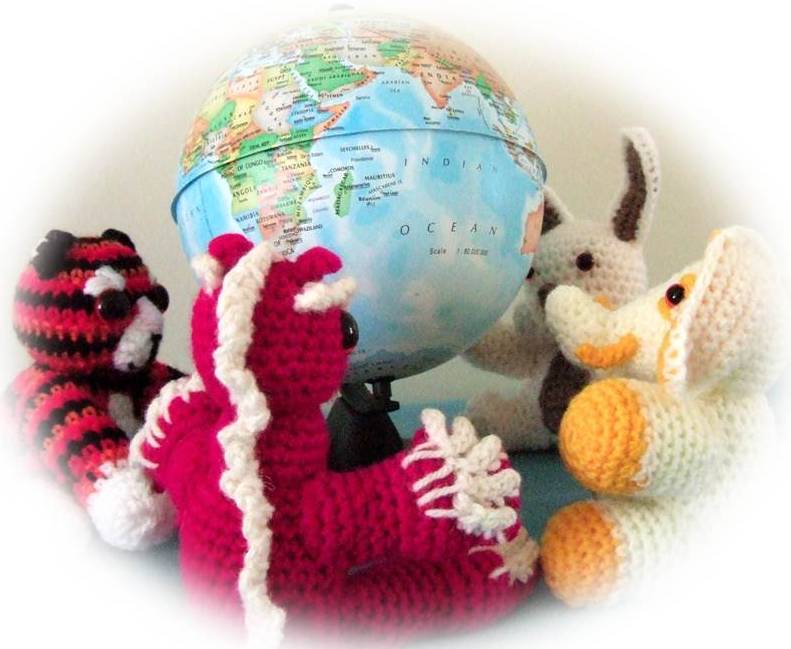 livepages::jquery();?>