Intuitive Greetings Cards - Shop
---
Products In This Category:
You can read one of my published poems entitled "Courage of the Heart" in the book "Living your dreams forever through the University of Life" which is available on Amazon, or read it on my Wordpress blog entitled "creativity" -----------------------------------------------------------------------------
High quality glossy card with paintings from Spiritual Intuitive Christine Cleobury.

Each card includes a poem created by Christine to inspire the Spiritual traveller on their journey. Approx size of card 117x182mm (7.5x5inch)
Comes complete with Dove design envelope!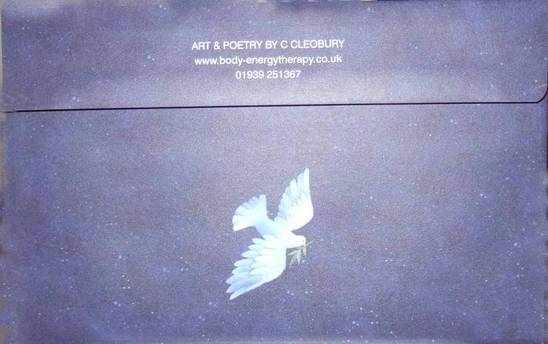 My Art & Poetry greeting cards have been created to inspire the heart allowing the gifts of my Celtic (Welsh) heratige to flow. These greeting cards can be given for any occasion.
Each card is filled with deep Spiritual understanding that has been given to me from my Spiritual guidance, the poetry connecting to the art.
A Happy Customer
Just wanted to let you know how pleased I was with the greetings cards. I enjoyed matching them to friends and family. For the first time ever I had people calling me to talk about the birthday card I had sent them. Perfect. Thank you.
Denise Mills Jan 05, 2011
livepages::jquery();?>