Reiki
Reiki is an ancient healing and self-development therapy which was rediscovered by Japanese scholar, Dr Mikao Usui. The Usui System of Reiki is a natural way to balance the body's energy, therefore increasing its ability to heal itself on all levels.



The word "Reiki" is Japanese and means "Universal life Energy". It is a hands on therapy treatment which is non-invasive.

Reiki may help with all types of problems.
It may help with:-
Illness

Relaxation

De-stressing

Easing pain

Creating a sense of Wellbeing

Treatment time approximately 1½ hours - £30.00
Contact me on 01939 251367 to book your appointment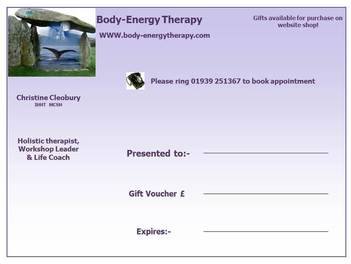 Gift Vouchers available on all therapies!