Natural Healing
Natural Healing is the understanding that the body, as well as being physical is also an energy system and when illness or physical problems occur it means that there is a blockage in this system.

Gentle touch and energy field work are used whilst you lie on a massage couch. This treatment is non-invasive and very relaxing. As the method that I work with is completely intuitive I sometimes use the cards (below) as a way of understanding the deeper energy issues.
As Natural Healing is a non-invasive treatment it can be used in conjunction with any other form of treatment to help the body to realign itself.
It may help with:-
Connecting to the inner self

Rebalancing the body

Relaxing

De-stressing

Easing pain

Alleviating trauma

Creating a sense of wellbeing
The above cards I work with are Bush Flowers as a medium to connect to the inner wisdom that lies within the self within the Natural Healing method that I use. In so doing energy blockages can be moved, enabling a person to feel more able to move on with their life and deal with their issues. Pictures connect us to our emotions, the flowers connect us to the Earth allowing deep healing to take place.

Note:- If you should wish me to work with the cards for your Natural Healing session please request that when you book your appointment with me; as I only work with them within this treatment by request!
Natural Healing can take anything from 20 mins to 1hr depending on the client's needs - £30.00
Contact me on 01939 251367 to book your appointment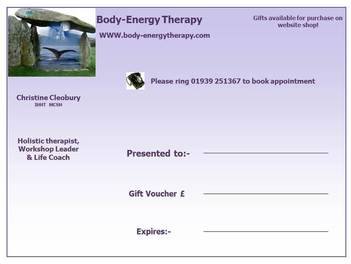 Gift Vouchers available on all therapies!